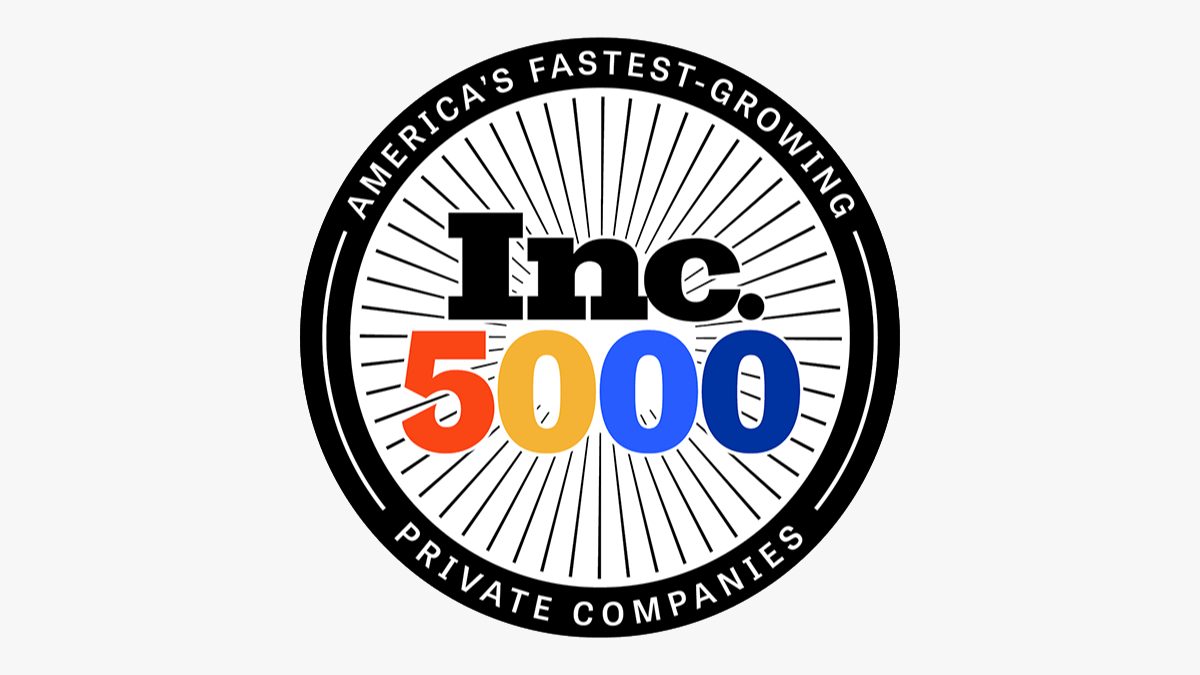 For the 5th Time, Techfino LLC Makes the Inc. 5000,
at No. 2456 in 2023, With a Three-Year Revenue Growth of 226.66 Percent
With Three-Year Revenue Growth of 227%, Techfino LLC Receives Ranking No. 2456 Among America's Fastest-Growing Private Companies
NEW YORK, August 15, 2023 – Inc. has revealed today that Techfino LLC is No. 2456 on its annual Inc. 5000 list, the most prestigious ranking of the fastest-growing private companies in America. The list represents a one-of-a-kind look at the most successful companies within the economy's most dynamic segment—its independent businesses. Facebook, Chobani, Under Armour, Microsoft, Patagonia, and many other well-known names gained their first national exposure as honorees on the Inc. 5000.

"Earning a spot on the Inc. 5000 list for the fifth time is a monumental achievement for us, especially as we've climbed from 3215 in 2022 to 2456 this year, reflecting a staggering three-year revenue growth of 226.66%. I cannot emphasize enough the pivotal role our team of NetSuite consultants has played in this journey. Their dedication to upholding our company's values and consistently delivering top-notch services to our clients has been the cornerstone of our success," said Bryan Willman, Managing Partner.

"We believe in the power of partnership and collaboration. Our team, composed of highly skilled professionals, is relentless in its pursuit of excellence, enabling us to make deeper inroads for our enterprise clients. As we help our clients navigate their growth paths, their successes become our successes. It's this shared journey of growth and achievement that makes our work so fulfilling," adds Wiktor Borowiec, Managing Partner.

The Inc. 5000 class of 2023 represents companies that have driven rapid revenue growth while navigating inflationary pressure, the rising costs of capital, and seemingly intractable hiring challenges. Among this year's top 500 companies, the average median three-year revenue growth rate ticked up to an astonishing 2,238 percent. In all, this year's Inc. 5000 companies have added 1,187,266 jobs to the economy over the past three years.

For complete results of the Inc. 5000, including company profiles and an interactive database that can be sorted by industry, location, and other criteria, go to www.inc.com/inc5000. The top 500 companies are featured in the September issue of Inc. magazine, available on newsstands beginning Tuesday, August 23.

"Running a business has only gotten harder since the end of the pandemic," says Inc. editor-in-chief Scott Omelianuk. "To make the Inc. 5000—with the fast growth that requires—is truly an accomplishment. Inc. is thrilled to honor the companies that are building our future."

"The challenges post-pandemic have been immense, but they've also been a catalyst for growth and innovation. Making it to the Inc. 5000 for the fifth consecutive year amidst such a backdrop is a proud affirmation of our team's resilience and the strong partnerships we've cultivated. We're on a mission to not just succeed, but to redefine success in this new era," said Bryan Willman, Managing Partner.

"In a world where rapid change is the norm, we believe that the finest details make the most significant difference. Our team, with its unparalleled retention rate, is a testament to a culture that values growth, mentorship, and shared success. While we're sought after for our precision, it's our ability to envision and shape the bigger picture that truly sets us apart. In every endeavor, we're not just looking at the now; we're building for the next," expressed Wiktor Borowiec, Managing Partner.
About Techfino LLC

Based in Philadelphia, Techfino LLC stands at the forefront of international consulting, specializing in the creation, deployment, and management of superior cloud solutions. Our expertise spans the breadth of NetSuite licensing, implementation, training, and integrations, with a special focus on optimizing systems to meet the evolving needs of businesses across a broad spectrum of industries.
At the heart of our strategy is our ContinuedSuccess program, a pioneering initiative that encapsulates our unwavering commitment to helping our clients navigate the complexities of their dynamic business models.
We are also proud creators of proprietary data management products for NetSuite, including our latest breakthrough – the CleanSweep Archive app. For more information about Techfino LLC, their products and service offerings, visit www.Techfino.com.

CONTACT:
Bryan Willman
Managing Partner, Techfino LLC
bryan.willman@techfino.com

More about Inc. and the Inc. 5000

Methodology
Companies on the 2023 Inc. 5000 are ranked according to percentage revenue growth from 2019 to 2022. To qualify, companies must have been founded and generating revenue by March 31, 2019. They must be U.S.-based, privately held, for-profit, and independent—not subsidiaries or divisions of other companies—as of December 31, 2022. (Since then, some on the list may have gone public or been acquired.) The minimum revenue required for 2019 is $100,000; the minimum for 2022 is $2 million. As always, Inc. reserves the right to decline applicants for subjective reasons. Growth rates used to determine company rankings were calculated to four decimal places.

About Inc.
Inc. Business Media is the leading multimedia brand for entrepreneurs. Through its journalism, Inc. aims to inform, educate, and elevate the profile of our community: the risk-takers, the innovators, and the ultra-driven go-getters who are creating our future. Inc.'s award-winning work reaches more than 50 million people across a variety of channels, including events, print, digital, video, podcasts, newsletters, and social media. Its proprietary Inc. 5000 list, produced every year since 1982, analyzes company data to rank the fastest-growing privately held businesses in the United States. The recognition that comes with inclusion on this and other prestigious Inc. lists, such as Female Founders and Power Partners, gives the founders of top businesses the opportunity to engage with an exclusive community of their peers, and credibility that helps them drive sales and recruit talent. For more information, visit www.inc.com.

For more information on the Inc. 5000 Conference & Gala, slated for October 31 - November 2 in San Antonio, visit events.inc.com/2023IncConference.