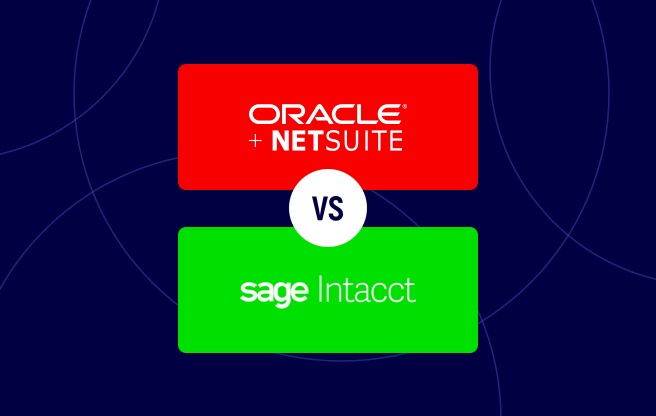 This is the ultimate guide to comparing Oracle NetSuite and Sage Intacct.
So, if you want to compare:
Features
Customer Reviews
Analyst Ratings
Licensing Cost
And many other categories.
Then you'll love the information contained within this guide.
Let's dive right in.
Be sure to bookmark this page as a resource during your ERP evaluation and if you need to talk to a NetSuite ERP licensing expert, lets chat.
Table of Contents
Similarities between NetSuite and Sage Intacct
Both Sage Intacct and Oracle NetSuite offer cloud-based financial management software designed to help companies run their businesses better.
If you are not familiar with the concept of "the cloud", in essence, it's a licensing and deployment approach, where you the customer benefit from the use of the application without the headache and cost associated with building out your own IT infrastructure.
With a cloud-based approach, you have access to all your data, all the time, from any device and supported browser. Your data is secure, encrypted and always backed up to protect against theft and loss.
Both NetSuite and Intacct provide deep functionality not generally found with entry-level accounting software such as QuickBooks or Xero therefore it's best suited for fast-growth companies pushing the limits of their initial software investment.


Differences Between Sage Intacct and NetSuite
NetSuite is better suited for growth
NetSuite software is utilized by over 16,000 customers in 203 countries and supporting 27 languages in 190 currencies. In fact, within the last five years over 50 companies have gone public on NetSuite. NetSuite has proven itself to be a platform for transformational growth.
NetSuite, a Modern ERP System With A Fully Unified Database
NetSuite provides business intelligence to all users across the entire business through a unified data model. Intacct utilizes the legacy architecture of maintaining separate subledgers, making it commonplace to unintentionally exclude segments/dimensions in the operational reporting of a sub-ledger that are exposed when viewing GL reports. This happens because of behind the scenes processes with "tied-out" transactions to the General Ledger will produce a trial balance that does not reconcile to the customized reporting within an AR or AP sub-ledger.
NetSuite is purpose built for Companies with Subsidiaries.
Intacct subsidiaries, much like the Intacct subledgers (above), do not appear to share the same data environment, which can be problematic. NetSuite end users get easy access to all the detailed subsidiary data through the Subsidiary Navigator. Further, NetSuite provides easy, out of the box tools to manage intercompany closing. NetSuite's Intercompany Reconciliation and Intercompany Elimination function automates matching and provides an audit trail of intercompany eliminations. Whereas, Intacct does not provide intercompany reports out of the box. Instead Intacct customers must subscribe to Customization Services or Platform Services to generate a custom report. Lastly, Intacct cannot enable multi-currency when billing other entities for goods, services, or management fees.
NetSuite provides a secure, flexible & compliant platform for growth
As your company grows and become more complex you'll need to consider processes to help manage governance, risk and compliance (GRC) right from within your ERP system. Now this is a continuous process because new requirements constantly emerge and evolve.
NetSuite is deeply committed to helping its customers achieve GRC objectives by providing audit-ready financial solutions and robust IT controls to reduce the risk of non-compliance that can undermine your brands reputation and revenue.
So you gotta ask yourself...Do you desire a complete business software suite that can have a transformative effect your company?
Or are you just looking for an accounting software solution designed to just meet the day to day needs of your accounting team?
Keep reading to help you uncover which one may suit your business best, we've produced this a side-by-side comparison guide below:
NetSuite and Intacct Company Profiles:

Intacct is a cloud based financial management solution acquired by Sage in July 2017. Sage Intacct provides core financial management capabilities geared towards SMBs.

NetSuite provides cloud-based CRM, PSA, ERP and Ecommerce solutions to SMB and Mid-market companies. NetSuite was acquired by Oracle in July of 2016 and continues to operate as a separate global business unit.
---
---
---
Accounting Firms
Financial Services
Franchise
Healthcare
Hospitality
Nonprofits
Professional Services
Software and SaaS
Retail & Ecommerce
Advertising,

,

Media & Publishing (AMP)
Nonprofits & Social Venture
Professional Services
Software and SaaS
Manufacturing
Wholesale Distribution
NetSuite and Intacct Feature & Functional Comparison:

Accounts Payable

Accounts Receivable

General Ledger

Multi-Currency

Fixed Assets

Multi-Company & Consolidation*

Revenue Recognition

Subscription Billing

Forecasting & Budgeting
*limited capabilities around globalization and localization

Accounts Payable

Accounts Receivable

General Ledger

Multi-Currency
Fixed Assets

Multi-

Company & Consolidation
Revenue Recognition
Subscription Billing
Forecasting & Budgeting
Financial Planning & Analysis
---

Order Management
Procurement
Inventory Management

Order Management
Production Management
Inventory Management
Procurement
Warehouse & Fulfillment
Demand Planning
WIP & Routing
Work Orders & Assemblies
Shop Floor Control & BOM Maintenance
---
Human Capital Management:


Human Resources Management
Payroll
---


Point of Sale
E-commerce
Order & Inventory Mgt
Product Content Mgt
E-commerce Marketing Automation
---
Professional Service Automation:

Project Management
Resource Management
Timesheet Management
Expense Management

Project Management
Resource Management
Timesheet Management
Expense Management
---
NetSuite and Intacct Software Demonstrations:


NetSuite and Intacct Software Pricing:

Base application starts at $425 per month.
User Licenses $210 per month.
---
Intacct requires a year-long contract; renewed annually.
NetSuite requires a year-long contract; renewed annually.
---
Additional fees apply for professional services such as implementation, integration, customizations, data migration and support.
Additional fees apply for professional services such as implementation, integration, customizations, data migration and support.
---
Annual recurring fees for the software subscription and possible integration fees (e.g. Salesforce CRM)
Annual recurring fees for the software subscription.
---
Direct or through Partner
Direct or through Partner
Analyst & Customer Reviews:

4 Stars 225 Reviews
Recommend by 81% of users

4 Stars 91 Reviews
Recommended by 78% of users
---
---
Magic Quadrant Leader for Cloud Core Financial Management Suites for Midsize, Large and Global Enterprises
Leader in 2021 Gartner Magic Quadrant for Cloud Core Financial Management Suites for Midsize, Large and Global Enterprises, marking the fourth year in a row NetSuite has received the honor.
Customer Support:

Available during regular business hours

24/7 toll-free worldwide phone support available
---
Live and/or online training available by Intacct training department and by partners.
Live and/or online training available by NetSuite training department and by partners.
---
Intacct recently announced the launch of the Intacct community for user collaboration.
---
Dozens of local user groups across the United States.
Dozens of local user groups across the United States.
---
Sage Intacct & NetSuite FAQ:
Q: Do both NetSuite and Intacct offer workflow capabilities?
A: Configurable workflows in Intacct are tightly constrained to only support basic approval processes. They are not graphically represented within the Intacct application. The lack of visibility into workflows could become a serious compliance issue as SOD would be hard to audit or record after they are implemented.
Q: Are both NetSuite and Intacct ASC 606 and IFRS 15 compliant?
A: Yes, both systems are compliant but there are some differences.
---
| | |
| --- | --- |
| NetSuite | Intacct |
| Revenue Recognition is managed from the revenue arrangement record, whereby methods and rules are assigned to the arrangement ensuring accuracy and strong internal controls. | Forces management of revenue recognition at the sales order or invoice which can cause control issues as order entry personnel may not have the appropriate accounting background needed to ensure Revenue Recognition is accurate and compliant. |
---
Q: Does NetSuite and Intacct offer other deployment models?
A: No, both solutions are 100% cloud-based. No on-premise or hybrid deployment is available for either solution.
Q: Can I integrate Salesforce CRM with either Intacct or NetSuite?
A: Yes, both solutions contain products (connectors) that allow you to integrate with Salesforce CRM.
Q: Do both NetSuite and Intacct offer a platform for customizing the system?
A: NetSuite offers a very mature and robust platform known as SuiteCloud. The SuiteCloud platform enables customers and partners to add extensions, customizations and integrations designed to seamlessly work through twice a year updates. Intacct does have a platform but its maturity and capabilities are limited.
Q: Do both NetSuite and Intacct cost roughly the same amount?
A: NetSuite generally is more expensive than Intacct however there are situations where NetSuite will be on par with Intacct in terms of overall cost.
Q: Can I get a free trial of either application?
A: Both NetSuite and Intacct offer free software trials.
Q: With the recent acquisitions of NetSuite (by Oracle) and Intacct (by Sage) mean that customers can expect reduced investments and/or cost to go up?
A: Since the NetSuite investment licensing cost has gone unchanged however NetSuite has included more software at the same price point so if anything the cost to license NetSuite has become more affordable. Check out this video by Evan Goldberg as he talks about the acquisition and investments in NetSuite to come.
---
What's new in Sage Intacct?
For
Sage Intacct's 2022 R2
release, the core functionalities have been refined with the introduction of AP Bill Automation, dunning notices for accounts receivable, and the setting of VAT tax defaults. The branding also received a fresh look. Industry-specific features include the introduction of evergreen subscription contracts, construction billing via project contracts, and advanced inventory fulfillment tools. On the administrative side, there are new permissions and an enhanced audit trail for better insights. Both accounts payable and receivable modules saw improvements, with features like vendor summary, dunning notices, and payment updates. Budgeting enthusiasts will appreciate the expanded budgeting and planning module. The construction module now allows for project invoice generation with specific billing details. Contracts have been enhanced with the introduction of evergreen contracts. Inventory management, order entry, platform services, taxation, and user experience all received significant updates, making the platform more robust and user-friendly.
What's new in NetSuite?
In the
NetSuite 2023.2
release, there have been significant advancements across various modules. The accounting section saw enhancements in budgeting, kit/package item management, and introduced new reconciliation tools. Account setup received a boost in security, particularly concerning roles and permissions. The authentication process is gradually phasing out support for SMS/Voice Call for 2FA. Banking modules now feature improved cash management tools and payment automation. Inventory management has been upgraded with advanced supply planning tools and warehouse management features. The manufacturing module introduced new SuiteApps and mobile enhancements. SuiteScript users will benefit from a new records browser and additional modules. The taxation module introduced SuiteTax enhancements and rolled out new international tax reports. The user interface underwent updates, including changes to supported browsers, and the vendors & purchasing section saw enhanced bill capture and email features.
Final Thoughts...
As you can see there are many similarities and differences between Sage Intacct vs Oracle NetSuite.
Generally speaking NetSuite is going to provide much deeper & broader capabilities over Intacct in every category across both applications.
So if you're simply looking for a next level accounting solution to replace QuickBooks at an attractive price point, Intacct could make a lot of sense.
However, if you need a proven, complete business solution that can scale with your ambitions it's likely NetSuite is the optimal choice for your business.
If you are still between the two options take the NetSuite vs Intacct Quiz below to get your non-biased assessment based upon your unique business requirements.