What is Techfino ContinuedSuccess?
Whatever your vertical edition, company size, or level of training, Techfino's ContinuedSuccess Support program has been carefully designed and refined over the past 10 years to help companies realize the value of NetSuite post go-live.
Our proprietary approach to initial NetSuite implementation and on-going NetSuite Support is simple enough for small and mid-market customers, yet has components that are tailored for more complex enterprise implementations. Our services can be as granular as necessary for large or fast growing companies that require:
Environment management strategy
Change management process
Code management controls
IT and Finance Compliance and audit controls
Post go-live we augment your in-house IT or Finance staff. Let us become your single go-to NetSuite Partner for all NetSuite strategy, architecture, and day-to-day administration.
Our philosophy and approach includes:
Planning and advising for future needs and initiatives
Reviewing new NetSuite modules, features, integrations, customization and automation, to align with optimal process improvements and NetSuite efficiency
Whether you self-implemented, worked directly with NetSuite for an initial SuiteSuccess implementation, utilized a NetSuite Partner, or just had a key internal resource leave the company, enhance the value of your NetSuite investment with Techfino's flexible NetSuite support program - ContinuedSuccess.
Is ContinuedSuccess right for your company?
Did you go-live with NetSuite SuiteSuccess?
Are you looking for a more hands-on support model than what NetSuite Premium Support provides?
Do you have ongoing NetSuite performance challenges that you need trusted advice on?
Do you know how to efficiently be your own NetSuite Administrator?
Are you planning for acquisitions or rapid company growth?
Do you know how to navigate the Test Plan for new NetSuite releases?
Would you like to have a named team of developers and techno-functional assistants to refine and improve your NetSuite implementation?
Do you have a complex NetSuite environment with multi-vendor arrangements due to lack of trust with your current NetSuite Partner?
What different NetSuite Support levels are offered with Techfino's ContinuedSuccess?
Techfino Continued Success offers three (3) levels of NetSuite support:
GUIDE* - (Base Level of Support)

White-glove Service
Upgrade Readiness
Administration
Basic Monitoring

ENHANCE* - (Mid-Level Support)

Expand and Enhance your use of NetSuite
Performance Monitoring & Optimization

INNOVATE* - (Top-Tier Support)

Your Extended Enterprise Level IT Team
Able to support Complex Organizations with heavy Customization and Integration Needs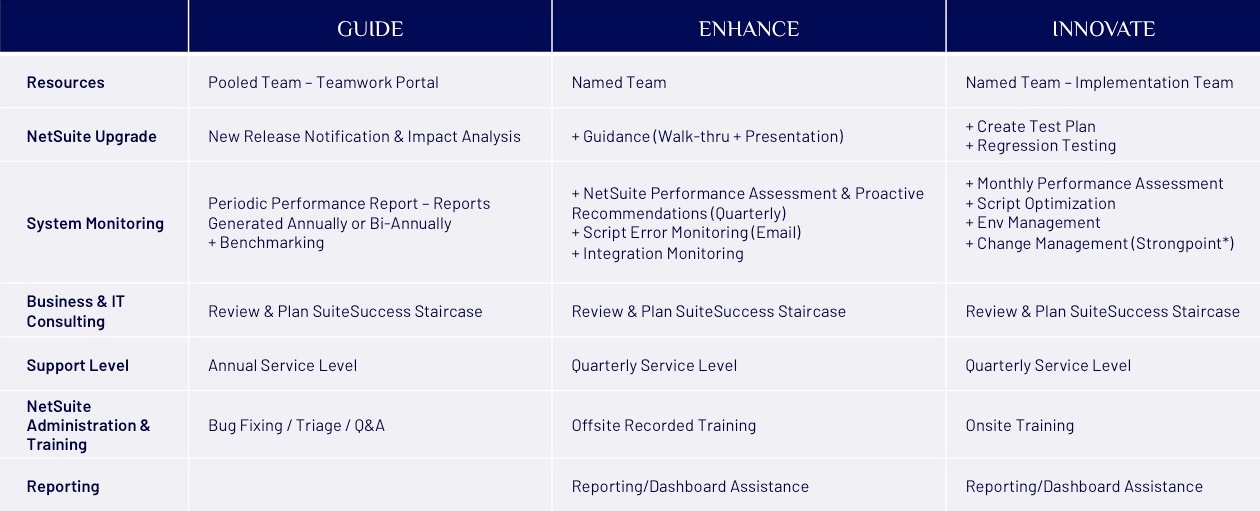 * Our support plans are flexible and allow customers to upgrade or downgrade support levels as needed.
Trust Techfino to maximize the value of your NetSuite investment both pre and post go-live.