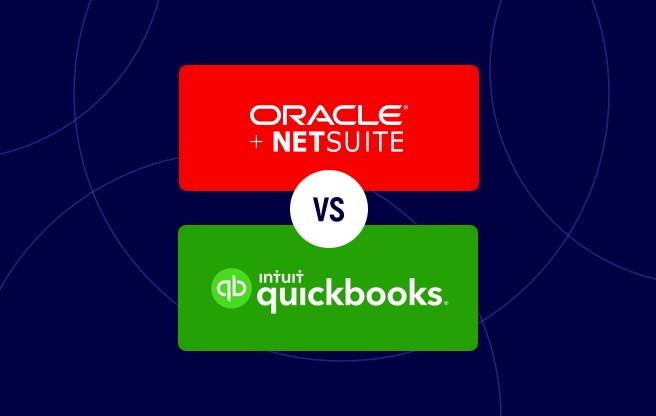 Hands down, QuickBooks has been the de facto accounting software for startups for several years.
With an intuitive user interface that is easy to navigate, banking & HR integrations and a highly attractive price point, QuickBooks can be a no-brainer for most small businesses leaders.

However, as your business grows and scales you may realize that adding additional headcount to maintain QuickBooks and other line of business applications operational may not be ideal.

Is this you?
For many companies that have outgrown QuickBooks, NetSuite is the natural next step for businesses looking to scale their organizations without the need to invest in additional headcount.
Keep reading to learn more about how NetSuite compares to QuickBooks.
Feel free to bookmark this page as a resource during your ERP evaluation.
Table of Contents
A Brief Overview:
Both QuickBooks and NetSuite offer cloud-based financial management software designed to help companies run their businesses.
But...
QuickBooks focuses primarily on financial management and functions solely as a small business accounting solution.
Whereas, NetSuite offers an entire suite of enterprise grade applications that reaches well beyond the needs of accounting & finance.
For example, NetSuite offers
Marketing Automation & Customer Relationship Management (CRM) software

Order Management software

E-Commerce software

Point of Sale software

Inventory and Warehouse Management software

and much more
all sitting on top of a cloud-based platform designed for extensibility and personalization unique to your business.

Additionally, not only is NetSuite known for its broad set of functionality its also acknowledged as a best in class cloud-based ERP offering according to industry experts like Gartner.
Company Profiles:

Founded in 1998, Intuit's QuickBooks provides a set of software solutions designed to manage payroll, inventory, sales and other needs of a small business. With 1.8 million customers QuickBooks is the largest provider of accounting software for small business.

NetSuite is the leading cloud-based ERP solution, which allows companies to automate front and back-office processes like financial management, revenue management, fixed assets, order management, billing, and inventory management and more.
---
---
---
Accounting Firms
Financial Services
Franchise
Church / Religious
Insurance
Lawn Care & Landscaping
Legal Services
Nonprofit
Property Management
Restaurant, Caterer and Bar
Retail
Transportation
Wholesale Distribution
Services
Software and SaaS
Retail
E-commerce
Financials Services
Advertising
Media & Publishing
Healthcare
Life Sciences
Energy
Education
Transportation & Logistics
Nonprofits
Social Venture
Services
Software and SaaS
Manufacturing
Wholesale Distribution
---
Feature Comparison:
Financial Management Functionality:

Accounts Payable

Accounts Receivable

General Ledger

Multi-Currency

Budgeting

Accounts Payable

Accounts Receivable

General Ledger

Multi-currency/multi-tax,multi-language
Fixed Assets

Multi-

Company & Consolidation
Revenue Recognition
Subscription Billing
Forecasting & Budgeting
Financial Planning & Analysis
---
Supply Chain Management Functionality:

Order Management
Procurement
Inventory Management

Order Management
Production Management
Inventory Management
Procurement
Warehouse & Fulfillment
Demand Planning
WIP & Routing
Work Orders & Assemblies
Shop Floor Control & BOM Maintenance
---
Human Capital Management Functionality:


Human Resources Management
Payroll
Employee Center
---
E-commerce & Retail Functionality:


Point of Sale
E-commerce
Order & Inventory Mgt
Product Content Mgt
E-commerce Marketing Automation
---
Professional Service Automation (PSA) Functionality:


Project Management
Resource Management
Time sheet Management
Expense Management
---
Software Demonstrations:


Pricing Comparison:
---
NetSuite requires a year-long contract; renewed annually.
---
Limited setup fees. May incur additional fees for integrations, training and support.
Additional fees apply for professional services such as implementation, integration, customizations, data migration and support.
---
Annual recurring fees for the software subscription and ongoing consulting or book keeping services.
Annual recurring fees for the software subscription and support. May require ongoing consulting/optimization depending upon the clients needs.
---

Direct or through an Authorized Partner
Direct or through and NetSuite Solution Provider Partner
---
Analyst & Customer Reviews:

4 Stars 1,736 Reviews
Recommend by 81% of users

4 Stars 91 Reviews
Recommended by 78% of users
---
---
Not recognized in Gartner's Magic Quadrant Review
---
Customer Support:

6AM - 6PM (PST) Mon.-Fri.

24/7 toll-free worldwide phone support available
---
Live and/or online training available by QuickBooks trainers and by partners.
Live and/or online training available by NetSuite training department and by partners.
---
NetSuite has an extensive knowledge base (SuiteAnswers) available to all users as well as online user group.
---
Dozens of trainers and local user groups across the United States.
Dozens of local user groups across the United States.
---
Primary Differentiators:

Disconnected systems make it nearly impossible to gain holistic business insights.
Keeping one set of data in QuickBooks and storing critical information elsewhere makes reporting difficult.

NetSuite ties business processes, departments and divisions together since every user within the application is using the same data repository, updated in real-time.
Everyone is on the same page, errors are minimized, and you gain broad insights across all business units and all facets of the business.
---
Reduce IT Infrastructure Complexity:

QuickBooks is a siloed product with a myriad
of apps that need to be updated and supported.
This produces a disparate and individual process-driven systems "hairball".

NetSuite offers an industry tailored financial management system that provides customers the ability to fully manage their business within the suite.
NetSuite can start, grow and scale with your business from inception to the future.
---
Boost Efficiency & Sales:
With QuickBooks, it's hard to be agile and responsive. You can't, for example, allow customers to see stock levels & confirm delivery schedules while working with a customer in real-time or take calls from customers minutes after an order is placed.
NetSuite provides E Commerce, CRM, ERP, Inventory Management, Billing, Revenue Management and HR in one centralized cloud platform, making your business freer and faster, increasing efficiency and sales at the pace you need.
Parting Thoughts...
QuickBooks can be a viable solution for many small businesses just getting off the ground however it's not designed to be your forever accounting software solution.
For example, checkout this short video by Shiftgig discuss their challenges and growth opportunities enabled by NetSuite.


"With NetSuite, we have better financial data right at our fingertips to measure KPIs across balances, sales rep performance and transaction monitoring, all posted right within the application." - Shiftgig
For business leaders expecting rapid growth we'd suggest considering an accounting / ERP solution that can meet both your immediate short term needs and scale as your requirements mature and evolve.
It's common to see companies settle for a QuickBooks solution and only to require another accounting system in just a year or two to support growth and expansion.
You can avoid the disruption and expense by choosing a solution like NetSuite to be the last accounting / ERP solution you implement no matter how large or how fast you grow.