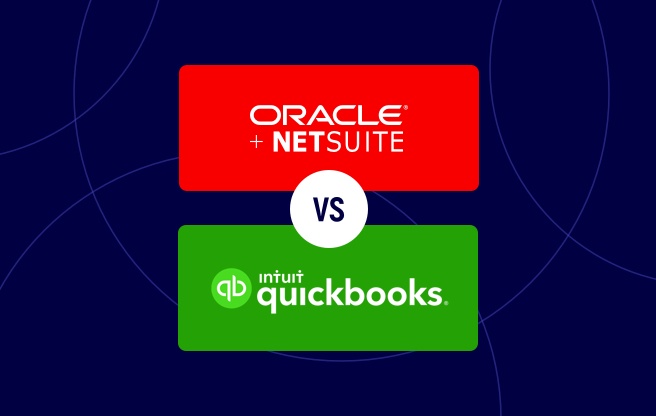 Hands down, QuickBooks is the leading accounting software solution for startups. With an intuitive user interface that is easy to navigate, banking & HR integrations and a highly attractive price point, QuickBooks is a no-brainer for most small to medium businesses (SMB). This is a great start but as a business grows, there comes a point where size and scale force SMB's to address staffing needs just to keep QuickBooks and its supporting systems operational. Is this you?
For many QuickBooks users, NetSuite is the obvious next step for companies looking to scale their operations without having to add additional staff.
Keep reading to learn more about how NetSuite compares to QuickBooks.
Be sure to bookmark this page as a resource during your ERP evaluation. If you'd like to talk to a NetSuite expert, lets chat.
Table of Contents
NetSuite vs QuickBooks Overview:
QuickBooks and NetSuite both offer cloud-based financial management software designed to help companies run their businesses.
What's the difference?
QuickBooks focuses primarily on financial management and functions solely as a small business accounting solution. NetSuite offers a more broad based solution with a suite of enterprise grade applications that reaches well beyond the needs of accounting. NetSuite addresses Customer Relationship Management (CRM), Order Management, E-Commerce, Point of Sale, Inventory and Warehouse Management, Manufacturing, and more.
Is your business ready for NetSuite? Check out the side-by-side comparison checklist below!
NetSuite vs QuickBooks: Company Profiles

Founded in 1998, Intuit's QuickBooks provides a set of software solutions designed to manage payroll, inventory, sales and other needs of a small business. With 1.8 million customers (2017) QuickBooks is a leader in accounting application for small business.

NetSuite ERP is a complete cloud-based ERP solution, which automates front and back-office processes like financial management, revenue management, fixed assets, order management, billing, and inventory management and more. With NetSuite, companies can scale their businesses as they grow and streamline mission-critical processes.
---
---
---
Accounting Firms
Financial Services
Franchise
Church / Religious
Insurance
Lawn Care & Landscaping
Legal Services
Nonprofit
Property Management
Restaurant, Caterer and Bar
Retail
Transportation
Wholesale Distribution
Services
Software and SaaS
Retail
Ecommerce
Financials Services
Advertising
Media & Publishing
Healthcare
Life Sciences
Energy
Education
Transportation & Logistics
Nonprofits
Social Venture
Services
Software and SaaS
Manufacturing
Wholesale Distribution
---
NetSuite vs QuickBooks: Feature Comparison
Financial Management Features:

Accounts Payable

Accounts Receivable

General Ledger

Multi-Currency

Budgeting

Accounts Payable

Accounts Receivable

General Ledger

Multi-currency/multi-tax,multi-language
Fixed Assets

Multi-

Company & Consolidation
Revenue Recognition
Subscription Billing
Forecasting & Budgeting
Financial Planning (PBCS)
---

Order Management
Procurement
Inventory Management

Order Management
Production Management
Inventory Management
Procurement
Warehouse & Fulfilment
Demand Planning
WIP & Routing
Work Orders & Assemblies
Shop Floor Control & BOM Maintenance
---

Payroll

Human Resources Management
Payroll
Employee Center
---

Point of Sale
Ecommerce

Point of Sale
Ecommerce
Order & Inventory Mgt
Product Content Mgt
Commerce Marketing Automation (Bronto)
---
Professional Service Automation (PSA) Features:

No capabilities

Project Management
Resource Management
Timesheet Management
Expense Management
---
QuickBooks vs NetSuite Demo:


---
NetSuite vs QuickBooks Pricing:

Between $20 and $60 per month (pending plan type)

Base application starts at $999 per month.
User Licenses $99 per user per month
---
NetSuite requires a year-long contract; renewed annually.
---
Limited setup fees. May incur additional fees for integrations, training and support.
Additional fees apply for professional services such as implementation, integration, customizations, data migration and support.
---
Annual recurring fees for the software subscription
Annual recurring fees for the software subscription.
---
Direct or through Partner
Direct or through Partner
---
NetSuite vs QuickBooks Reviews:

4 Stars 1,736 Reviews
Recommend by 81% of users

4 Stars 91 Reviews
Recommended by 78% of users
---
---
Magic Quadrant Leader for Cloud Core Financial Management Suites (FMS) for Midsize, Large and GLobal Enterprises - Download Report
---
NetSuite vs QuickBooks Support:

6AM - 6PM (PST) Mon.-Fri.

24/7 toll-free worldwide phone support available
---
Live and/or online training available by QuickBooks trainers and by partners.
Live and/or online training available by NetSuite training department and by partners.
---
NetSuite has extensive knowledge base (SuiteAnswers) available to all users as well as online user group.
---
Dozens of trainers and local user groups across the United States.
Dozens of local user groups across the United States.
---
Final Thoughts...
There are plenty of financial management solutions for companies ready to graduate from QuickBooks. We'd suggest considering a QuickBooks alternative that can both meet your immediate needs and also provide some element of future-proofing. It's not uncommon to see companies take an intermediate step and end up needing another system migration a few short years later which is both costly and inefficient. NetSuite has the ability to be the last ERP solution you implement no matter how large you decide to scale.