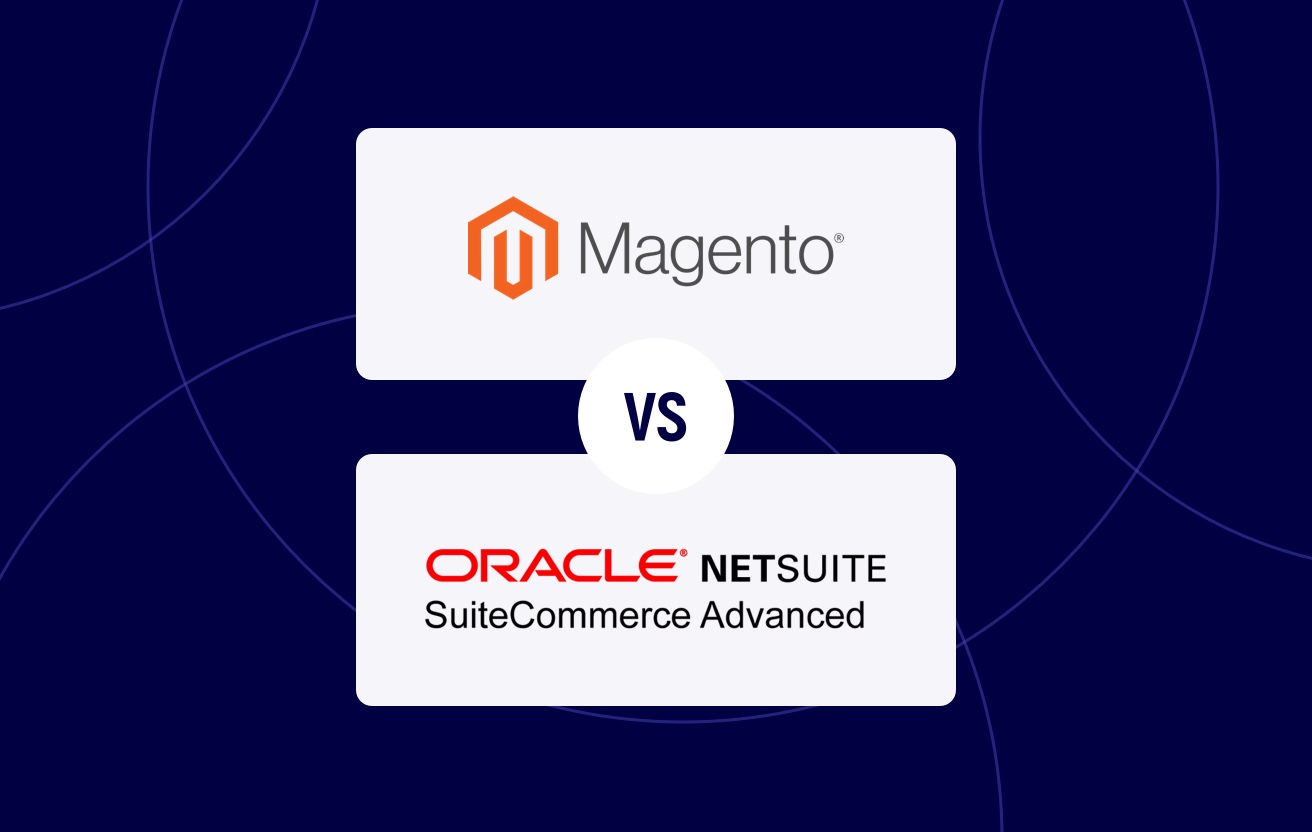 Magento has been a front-runner in the e-commerce race since the early days. However, with the recent release of Magento 2.0, and the "upgrading" problems that come with it, Magento loyalists are beginning to shop for alternatives.
If you're frustrated with Magento and are in the market for an alternative, we strongly suggest having a look at NetSuite's e-commerce solution, referred to as SuiteCommerce.
Unlike Magento, which focuses solely on e-commerce management, SuiteCommerce provides a complete arsenal of tools, including direct integration with ERP, POS, CRM, and inventory & warehouse management.
In this article, we'll be making a head-to-head comparison of Magento vs SuiteCommerce based on several key areas.
Magento vs SuiteCommerce: Overview
The main difference between the two is Magento is primarily an e-commerce platform, whereas SuiteCommerce is part of a larger NetSuite ecosystem of business applications.
Magento
Magento is the world's leading e-commerce solution by market share—roughly 20-percent of all online shops run on Magento. Moreover, it boasts over 260,000 customers and an estimated annual revenue of $150 million.
It was recently acquired by Adobe for an impressive $1.68 billion.
In terms of e-commerce, it provides a variety of capabilities for online store management, such as order fulfillment, shopping cart management, website management, and catalogs, as well as additional functionalities for online marketing, content management, shipping, and SEO.
Just recently, the company released Magento 2.0, which, unlike Magento 1.0, runs on newer versions of PHP, offers streamlined checkouts (including in-site PayPal), provides better web performance, and features an entirely new tech stack.
Magento 2.0 has overcome some of the issues of its predecessor, like table locking, search limitations, and constant reloads.
However, this does pose an entirely different set of problems related to migration. While many of Magento 1.0's issues have been resolved by Magento 2.0, the stark differences between the two means that migrating or "upgrading" isn't also as seamless, and may be just as difficult as migrating to a different solution altogether.
Furthermore, as Magento continues to push 2.0, support for 1.0 will inevitably wane and leave a good amount of its users unsupported.
SuiteCommerce
SuiteCommerce is a unified e-commerce platform by NetSuite. It supports several core operational systems such as inventory, order management, financials, and customer support.
Being part of the family of NetSuite solutions, it allows for seamless integration with NetSuite in-store (POS), inventory & warehouse management, which, in turn, creates better process flows for a true omnichannel experience.
Furthermore, SuiteCommerce can be used alongside the dozens of industry-specific solutions developed by NetSuite partners, minus the worry of features and code being deprecated.
If you're already running your systems on NetSuite, choosing SuiteCommerce for e-commerce will definitely lessen the time and cost associated with deploying an e-commerce site.
Magento vs SuiteCommerce: Deployment, Hosting & Code Base
Magento offers both on-premise and cloud deployment, whereas SuiteCommerce, like all other NetSuite products, is strictly a cloud-based solution. Magento requires its customers or partners to handle web hosting, which means additional work managing code repositories and supporting dev environments.

With SuiteCommerce, on the other hand, all these are provided and managed by NetSuite, turnkey, therefore you can focus exclusively on your business. It's also important to note that Magento does not support multi-tenant hosting.
Lastly, due to Magento's PHP architecture it requires three completely different skill sets; front-end web developers, infrastructure engineers and database administrators to manage and administer the system, whereas SuiteCommerce uses single page architecture built on open source AJAX and JavaScript standards.
Magento vs SuiteCommerce: User Experience
Arguably the most distinct difference when dealing with a patchwork solution like Magento and an integrated one like SuiteCommerce is user experience.
With Magento, the experience is not always consistent, especially when integrated into a variety of different solutions. Furthermore, integrations often require advanced PHP and MySQL knowledge, and significant troubleshooting experience when bugs and updates come up.
That said, if you have a skilled developer on-staff, there's a lot you can do with Magento, given the thousands of plugins available.
NetSuite is far more seamless in this regard, especially when integrating with native NetSuite applications like NetSuite ERP, CRM and POS. Moreover, NetSuite updates are backward compatible, so you won't have the problem of re-configuring your code/connectors every time something new pops up—you'll get all the functionality minus the headache.
Magento vs SuiteCommerce: Extensions and Integrations
Magento wasn't built with ERP or accounting integration in mind. Integrating these features (and other similar ones) will require third-party extensions and middleware, and attention from a PHP or MySQL developer.
That said, having a dedicated developer to manage your integrations and connections can help you get all the features you need in one place. Given Magento's market size, it certainly does have a larger ecosystem of third-party modules, extensions, and themes.
But if you really want everything in one place without having to deal with unreliable integrations and code conflicts, SuiteCommerce will allow you to access NetSuite tools (and applications built by NetSuite partners) without having to worry about compatibility.
Magento vs SuiteCommerce: Scalability
Scalability means more than supporting website traffic growth, however important that is. A topic that doesn't get discussed often enough when considering e-commerce software is business growth—that is, how to manage and support a growing number of transactions, fulfillments, people, products, and processes.
For example: Does your software support new languages and currencies when expanding to other regions? Can you process data in real-time to deliver better value to your customers? Are your systems sufficient to manage a growing number of SKUs?
With Magento, the answers may vary depending on the apps and connectors you use, but, with SuiteCommerce, you'll be able to manage and prepare for growth in a way that's predictable.
Magento vs SuiteCommerce: ROI
Investing in the right e-commerce platform has everything to do with understanding your needs and then trading dollars today for future returns tomorrow.
With a patchwork solution like Magento, understanding your total cost can be difficult, especially as you begin to add third-party integrations and other IT support costs into the mix.

Although Magento licensing prices are competitive and even offers a freemium plan via Magento Open Source, you will likely find that the time, effort, and cost to set up a Magento solution far exceed that of SuiteCommerce or at least this has been our experience. It's not uncommon to see Magento deployments cost 2-3x the times the cost of a NetSuite SuiteCommerce solution and it often comes with twice as much headache.
Magento vs SuiteCommerce: The Future
The rollout of Magento 2.0 creates a lot of uncertainty, especially for Magento 1.0 users.
As of this writing, Magento 1.0 support will only last until 2020, and, given the stark differences between the two versions, it looks like upgrading to 2.0 will require just as much effort as a completely new build. Moreover, some extensions in Magento 1.0 may not be available in 2.0, so some users may have to start from scratch when they decide to embark on the inevitable website upgrade project.
Conclusion
If you're an e-commerce business today, you want to spend most of your time selling, not managing your systems. Unless you have a dedicated team of developers to work on your integrations and extensions, and troubleshoot when updates roll out, we suggest going with a worry free solution like SuiteCommerce.