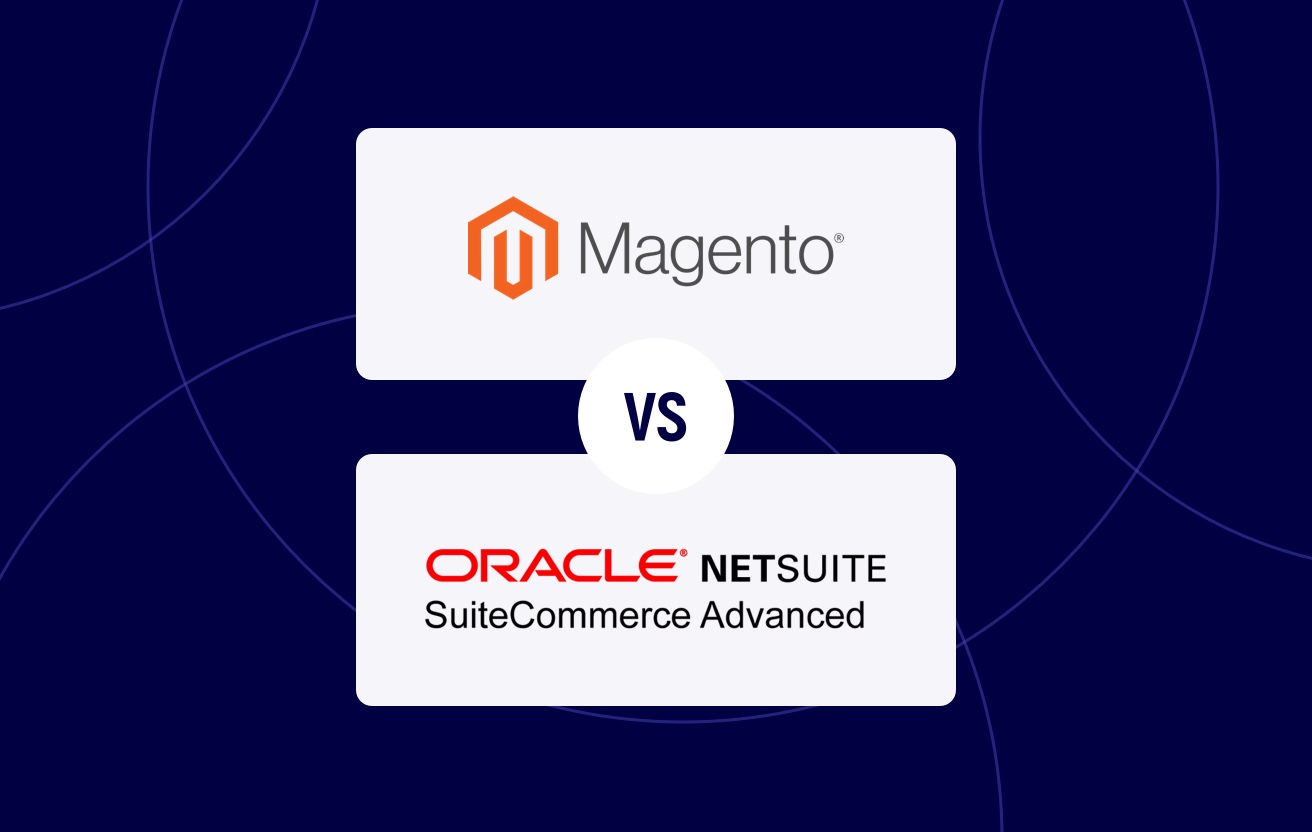 Long hailed as a champion in the e-commerce arena, Magento has forged a legacy since its inception. Nevertheless, the advent of Magento 2.0, accompanied by its inherent transition challenges, has stirred some Magento enthusiasts to explore other options.

If you find yourself disillusioned with Magento and are actively scouting for a worthy substitute, we highly recommend delving into NetSuite's SuiteCommerce.

In contrast to Magento's e-commerce-centric approach, SuiteCommerce boasts a comprehensive toolkit. This includes seamless integration with ERP, POS, CRM, and inventory & warehouse management, offering a more holistic business solution.

This blog post will put Magento and SuiteCommerce under the microscope, comparing them side by side across various critical factors.
Magento vs SuiteCommerce: An In-depth Overview
The principal distinction between Magento and SuiteCommerce lies in their core functionality. While Magento stands as a purebred e-commerce platform, SuiteCommerce is a component of the broader NetSuite ecosystem that encompasses a suite of business applications.
Magento
Emerging as the world's premier e-commerce solution, Magento holds sway over approximately 20-percent of the global online retail market. With over 260,000 clients and an estimated annual revenue stream of $150 million, its influence is truly profound.
Adobe, recognizing its immense potential, acquired Magento for an astounding $1.68 billion.
When it comes to e-commerce, Magento is armed with an array of features for managing an online store. These include order fulfillment, shopping cart management, website administration, and catalog management. Additionally, it extends its capabilities to online marketing, content management, shipping, and search engine optimization (SEO), making it a powerful tool for online businesses.
The company's recent launch, Magento 2.0, is a significant upgrade from its predecessor. Unlike Magento 1.0, the latest version operates on newer iterations of PHP, offers streamlined checkout processes (including on-site PayPal), boasts enhanced web performance, and is built on an entirely reimagined tech stack.
While Magento 2.0 addresses several shortcomings of Magento 1.0, such as table locking, search limitations, and frequent reloads, it presents its unique set of challenges, particularly concerning migration. The stark differences between the two versions mean that the transition process is not as smooth as one might hope, often equating to the complexities of migrating to an entirely different solution.
Additionally, as the company aggressively promotes Magento 2.0, support for the 1.0 version is likely to diminish, leaving many of its users without adequate support.
SuiteCommerce
SuiteCommerce is an integrated e-commerce solution developed by NetSuite. It offers robust support for key operational systems such as inventory, order management, financials, and customer support.
As an integral member of the NetSuite family, SuiteCommerce provides a seamless connection with NetSuite's in-store (POS), inventory & warehouse management systems. This integrated approach results in improved process flows, delivering a genuinely omnichannel experience for businesses and their customers.
Additionally, SuiteCommerce can be paired with numerous industry-specific solutions designed by NetSuite partners, without the concern of deprecating features or code.
If your business systems are already powered by NetSuite, opting for SuiteCommerce for your e-commerce needs will undeniably minimize the time and expense associated with launching an e-commerce site, making it a logical choice for many businesses.
Magento vs SuiteCommerce: Deployment, Hosting & Technical Expertise
Deployment and Hosting
Magento's flexibility allows for both on-premise and cloud-based deployment options. However, this means customers or partners are responsible for managing web hosting, which can entail additional work such as maintaining code repositories and supporting development environments.
Conversely, SuiteCommerce, like all other NetSuite products, is exclusively a cloud-based solution. NetSuite handles the provision and management of these services, enabling you to concentrate solely on your business operations. It is also worth mentioning that Magento does not support multi-tenant hosting, which could be a consideration for some businesses.
Technical Expertise
Magento's PHP architecture demands a diverse set of technical skills to manage and administer the system effectively. To achieve this, businesses often require a combination of front-end web developers, infrastructure engineers, and database administrators.
On the other hand, SuiteCommerce employs a single-page architecture built on open-source AJAX and JavaScript standards. This streamlined approach simplifies the required technical expertise, making it easier to maintain and manage, ultimately benefiting businesses in the long run.
Magento vs SuiteCommerce: User Experience
A critical aspect to consider when comparing a modular solution like Magento to an integrated one like SuiteCommerce is the overall user experience.
Magento User Experience
When integrating Magento with a diverse range of solutions, the user experience may not always be consistent. This inconsistency can be attributed to the varying requirements of each integration, which often demand advanced PHP and MySQL knowledge. Furthermore, the need for significant troubleshooting expertise can arise when addressing bugs and updates.
However, if your team includes a skilled developer, Magento's extensive library of plugins can open up a world of possibilities for customization and functionality.
SuiteCommerce User Experience
In contrast, NetSuite delivers a far more seamless experience, particularly when integrating with native NetSuite applications such as NetSuite ERP, CRM, and POS. This streamlined approach ensures a consistent user experience and facilitates smoother integrations.
Moreover, NetSuite's updates are backward compatible, eliminating the need to reconfigure your code or connectors each time a new feature or update is released. As a result, you can enjoy all the benefits of SuiteCommerce's evolving functionality without the associated headaches.
Magento vs SuiteCommerce: Extensions and Integrations
Magento Extensions and Integrations
Magento was not initially designed with ERP or accounting integration in mind. Therefore, to incorporate these functionalities or similar ones, you would need third-party extensions and middleware, along with expertise in PHP or MySQL for proper integration.
However, if you have a dedicated developer to oversee your integrations and connections, you can harness the full capabilities of Magento's vast ecosystem. Given Magento's substantial market presence, it indeed boasts a larger array of third-party modules, extensions, and themes.
SuiteCommerce Extensions and Integrations
Conversely, if you prefer a solution where all elements exist cohesively, without the potential headaches of unreliable integrations and code conflicts, SuiteCommerce could be a perfect fit. This platform offers you access to a suite of NetSuite tools, including applications developed by NetSuite partners, all without having to worry about compatibility issues.
The integrative nature of SuiteCommerce eliminates the need for disparate extensions or middleware, providing a seamless, unified platform for managing all aspects of your e-commerce business. This unified approach ensures that all the tools you need are at your fingertips, integrated within a single, robust system.
Magento vs SuiteCommerce: Scalability
Scalability encompasses more than just accommodating increased website traffic. A crucial yet often overlooked aspect of e-commerce software selection is the ability to support and manage business growth. This includes handling a rising number of transactions, fulfillments, employees, products, and processes.
Consider the following questions:
Can your software support new languages and currencies as you expand into different regions?
Is it capable of processing data in real-time to deliver enhanced value to your customers?
Can your systems efficiently manage a growing number of SKUs?
Magento Scalability
When it comes to Magento, the answers to these questions may vary depending on the apps and connectors you employ. While Magento can scale to some extent, it relies heavily on third-party extensions and middleware, which can lead to inconsistencies and additional complexity.
SuiteCommerce Scalability
In contrast, SuiteCommerce offers a more predictable and manageable approach to scalability. As part of the NetSuite ecosystem, SuiteCommerce seamlessly integrates with a range of business applications, ensuring a unified platform that can adapt to your growing needs.
SuiteCommerce's robust architecture allows you to manage and prepare for business growth more effectively, ensuring that your e-commerce platform remains resilient and efficient as your company evolves and expands.
Magento vs SuiteCommerce: ROI
The pursuit of the right e-commerce platform is all about understanding your specific needs and balancing the investment today with expected future returns. This equation includes considerations of both initial set-up costs and ongoing maintenance and upgrade expenses.
Magento ROI
When it comes to a modular solution like Magento, calculating the total cost of ownership can be a complex task, particularly as you start incorporating third-party integrations and accounting for other IT support costs.
While Magento's licensing prices are competitive, and it even provides a freemium plan through Magento Open Source, you may find that the total investment in terms of time, effort, and cost to establish and maintain a Magento solution can significantly exceed that of SuiteCommerce.
Indeed, our experience suggests that the set-up of a Magento solution can often cost 2-3 times that of a SuiteCommerce deployment. Additionally, managing a Magento deployment can be more labor-intensive, leading to increased operational headaches.
SuiteCommerce ROI
In contrast, SuiteCommerce, as an integrated part of the NetSuite ecosystem, often presents a more streamlined and cost-effective solution. The initial setup, as well as ongoing management and upgrades, are typically less time-consuming and less costly, resulting in a potentially higher return on investment.
It's essential to perform a detailed cost-benefit analysis, considering both immediate costs and future growth needs, to make an informed decision between Magento and SuiteCommerce.
Looking Ahead with Magento
The introduction of Magento 2.0 has stirred up a degree of uncertainty, particularly for existing Magento 1.0 users. At the time of writing, Magento has announced that support for its 1.0 version will cease by 2020. Considering the significant differences between the two versions, upgrading to Magento 2.0 might necessitate as much effort as creating a brand new build.
Furthermore, some extensions available in Magento 1.0 may not have counterparts in 2.0, presenting additional challenges for users. This means that some businesses may find themselves starting from scratch when they eventually undertake their website upgrade project. This uncertainty might be a considerable drawback for those looking for a stable, long-term e-commerce solution.
Conclusion: Choosing the Right E-commerce Platform
As an e-commerce business, your primary focus should be on selling your products or services, not wrangling with your systems. Unless you have a dedicated team of developers on hand to manage your integrations, extensions, and troubleshoot updates as they roll out, a more streamlined solution might be the better option.
SuiteCommerce offers such a solution, providing a worry-free, integrated platform that allows you to focus on your core business operations without the constant need for technical troubleshooting or dealing with potentially unreliable third-party extensions. This comprehensive platform can support your business as it grows, saving you valuable time and resources, and offering a more predictable path for future expansion and development.
Ultimately, the decision between Magento and SuiteCommerce depends on your specific business needs, resources, and future growth plans. It's crucial to consider these factors carefully to make the most informed decision for your e-commerce platform.