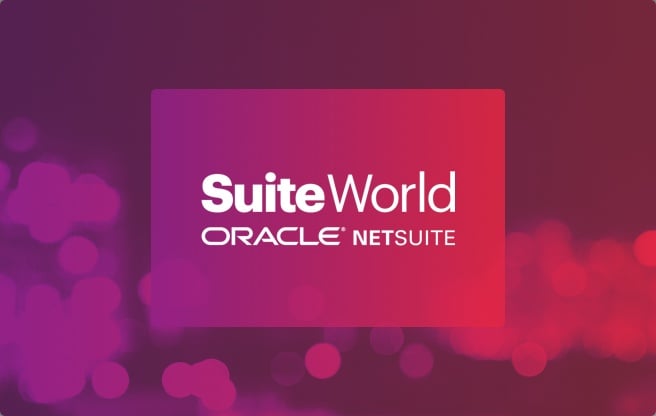 Five Key Takeaways from SuiteWorld 2018
Techfino attended SuiteWorld 2018, which showcased many new features for NetSuite. In our opinion, the five most important takeaways from SuiteWorld are the updates to SuiteCommerce, SuiteTax, Suite Analytics, innovations with global financials, and upgrades for SDF.
1) SuiteCommerce Standard
At SuiteWorld18, the executive vice president of Oracle NetSuite, Jim McGeever, announced the availability of an updated version of ecommerce. He stated, "With SuiteCommerce, businesses can quickly and easily launch, manage, and enhance their ecommerce site. From day one, they get a single, unified solution that supports their entire business and will be the first and last system they will ever need."
SuiteCommerce (SuiteCommerce Standard) is based on the success of the SuiteCommerce Advanced ecommerce platform from NetSuite. Both offerings have the same functional features out-of-the-box and both take advantage of drag-and-drop Site Management Tools, the Commerce Extension Framework, and are pre-integrated to the NetSuite ERP back-end for seamless and real-time order management with a unified Customer 360 view of all omnichannel transactions.
SuiteCommerce features automatic updates through a managed code bundle and design flexibility based on Sass. This is completely compatible with all versions of CSS and is one of the most mature, stable, and professional grade CSS extension languages in the world. Learn more at http://sass-lang.com
SuiteCommerce is ideal for all B2C and B2B for companies that need to quickly implement a storefront with limited IT and development resources. SuiteCommerce designs are completely forward compatible with an upgrade to SuiteCommerce Advanced (SCA) which gives developers code-level access for complete control and customization capabilities including custom cart and checkout flows and full access to the NetSuite Commerce API.
Call Techfino to learn more about both SuiteCommerce and SuiteCommerce Advanced from NetSuite.
2) SuiteTax
One of the biggest highlights from SuiteWorld 2018 was NetSuite's new tax engine offering, SuiteTax. SuiteTax provides end-to-end tax reporting all from invoicing to e-filing, and now you can now support specific country needs and legislation changes regarding tax calculation and reporting. Tax intensive countries such as Brazil, India, and China (which have added much complexity to implementations over the years) will now be accommodated using SuiteTax. Another notable gap that will go by the wayside and welcomed by NetSuite users, is that Use Tax will now be handled with SuiteTax without the need for a third-party software.
SuiteTax's flexibility is one of its greatest strengths. In the same NetSuite instance, you can now have multiple tax engines running simultaneously. For example, SuiteTax helps you manage in-country transactions (sales tax, VAT, or GST) and numerous special tax situations and rules, such as intra-EU transactions, 3PL, reverse charges, and others. SuiteTax also lets you use different tax calculation engines for nexuses and override tax details on transactions. This means you can configure one nexus to use the SuiteTax tax engine and Vertex's tax engine for another nexus to work seamlessly in the same instance.
Migration to SuiteTax will be optional for the next 2 years and mandatory from that point on. There is a qualification process to be eligible for SuiteTax.
3) SuiteAnalytics
NetSuite has been pumping resources into creating a more robust analytic architecture, it will be an extension of SuiteAnalytics. They're aiming to provide greater analytical capabilities by empowering uses to gain insights faster and make data-driven business decisions.
Planned Roadmap
| | | |
| --- | --- | --- |
| Beta Release (Available Now!) | GA Release (TBD, 2019.1 at earliest) | Next Release (TBD) |
---
Querying with multi-level joins
Pivoting
Basic charting
Limited data coverage
Query API and SuiteQL

Queries based on queries
Calculated fields in pivots
Improved charting
Expanded data coverage
Pivot API

Analytics apps
Intelligent pivots
Intelligent charts
Complete data coverage
Chart API
---
The GA release will have improvements to charting capabilities, queries based on queries, calculated fields in pivots, expanded data coverage and Pivot API. Future releases will have pre-built analytic applications, Complete data coverage and Charting API. One of most exciting features that everyone at Techfino cannot wait for is the ability to write SQL statements to create searches and reports using SuiteQL. This opens the door to create robust reports that previously could only be done through very heavy customization.
SuiteAnalytics is in beta now, so if you are interested email beta.suiteanalytics@netsuite.com to get the module added to your environment. You can also view a demo from the keynote here: https://youtu.be/bx5XIA_SeBQ?t=5271

4) Globalization
Through the last few releases, NetSuite has been pushing big enhancements to the core and global financial platform, such as Advanced Revenue Management, Multi-book accounting, and Custom Transactions. As we venture into 2018, that focus remains as NetSuite continues to improve financials for global markets.
One example, familiar to OneWorld users, is the traditional approach to maintaining the same customer in different subsidiaries, which would require creating multiple customer records for each applicable subsidiary. This was very frustrating, as it required more work to manage and it made invoicing and reporting much more difficult.
Fortunately, one of the most recent updates is the introduction of the long-desired feature for global customers. Now a single customer record can be shared across subsidiaries to allow a much more seamless experience when creating orders and processing accounts receivable. This is just one example of how NetSuite is pushing towards expanding the capabilities of the financial platform to accommodate businesses across the world.
At SuiteWorld 2018, many other topics were also covered about how NetSuite continues to expand the capabilities of the financial platform to accommodate global businesses all over the world, including:
FX Currency variances
Period End Journal Entries
Advanced intercompany JE
Bank reconciliations (CSV statement upload)
Cross subsidiary fulfillment
Trade configurations
Accounting contexts

5) SDF
SuiteCloud Development Framework (SDF) has now been around for four releases and the growing capabilities was a hot topic at SuiteWorld. The addition of a lengthy list of Dashboard Portlets, PDF and email templates, and CSV imports are just a few of the customizable to keep developers happy working in their IDE. Taking advantage of SDF is no longer restricted to Eclipse users. The SDF team has released a plug-in for WebStorm IDE and with the growing community of developers, we believe that we will likely see open sourced SDF packages for other popular text editors and IDEs.
NetSuite has finally added support for locking of records and hiding of files that will be kept in the Installation Preferences folder of the project. They've also added the ability for SuiteApps to reference objects from other SuiteApps which will help modularize applications.
Looking ahead to the 2018.2 release, Reminder Dashboards, SSP apps, and custom segments are some of the objects that will be added to SDF. Also, coming in later releases, SDF will be a one-stop-shop for SuiteCommerce development.
Are you interested in learning more about these highlights from SuiteWorld? Then stay tuned: Techfino will be releasing more blogs that go in depth about all five of these topics.